Therese and John - Our Story
This is our Family...
We have four boys, ages 9 months to 12 years, that came to us through open adoption. They are rambunctious, active, fun, hilarious and completely unique little people. There is not a single doubt in our minds or hearts that these 4 boys and their birth families are meant to be ours.
Our wait times varied, from 3 months to 2 years. We spent that time reading and researching anything we could about adoption and parenting, preparing for our baby. It was not easy, there were definitely tears, so many tears, as we waited for our phone call. Also hurt feelings and anger every time someone gave us unwanted advice and misguided help. We had heartbreak when a private placement plan fell apart, but we never lost our hope, well at least not for very long. We were very lucky to have the support of our families, and the amazing team at Adoption Options, who were just as invested in our journey as we were. Each time we were on the list was just as emotionally wrenching as the first time had been, but we knew that if we kept our minds open and trusted the process that it would pay off in the end. And it did.
Our family wasn't made the way we expected, but it turned out better than we could have imagined.
Thanks,
Jeff & Mandy
Donald and Amy's Story
After trying to conceive for 4.5 years, we decided to investigate fertility treatments and domestic adoption. We were apprehensive about adopting at first but wanted a family more than anything. After numerous surgeries and treatments, we felt that fertility treatments were not they way we were meant to start our family.
On September 27th, we received a surprising call that our daughter had been born the evening before! We were so caught off-guard, that it didn't sink in right away that we were finally parents!! We drove for 3 hours to reach the hospital where we met our new extended family. It was a nerve-wracking experience but everything played out so well.
Our daughter's birthparents are thankful that their daughter is happy and with a loving family. Thanks to Adoption Options, we are also in contact with our daughter's full biological sister that was also adopted through the agency. We are excited to visit our extended family in June!
We can't imagine our journey to parenthood being any different. Gabriella is the missing piece to our puzzle!
Donald and Amy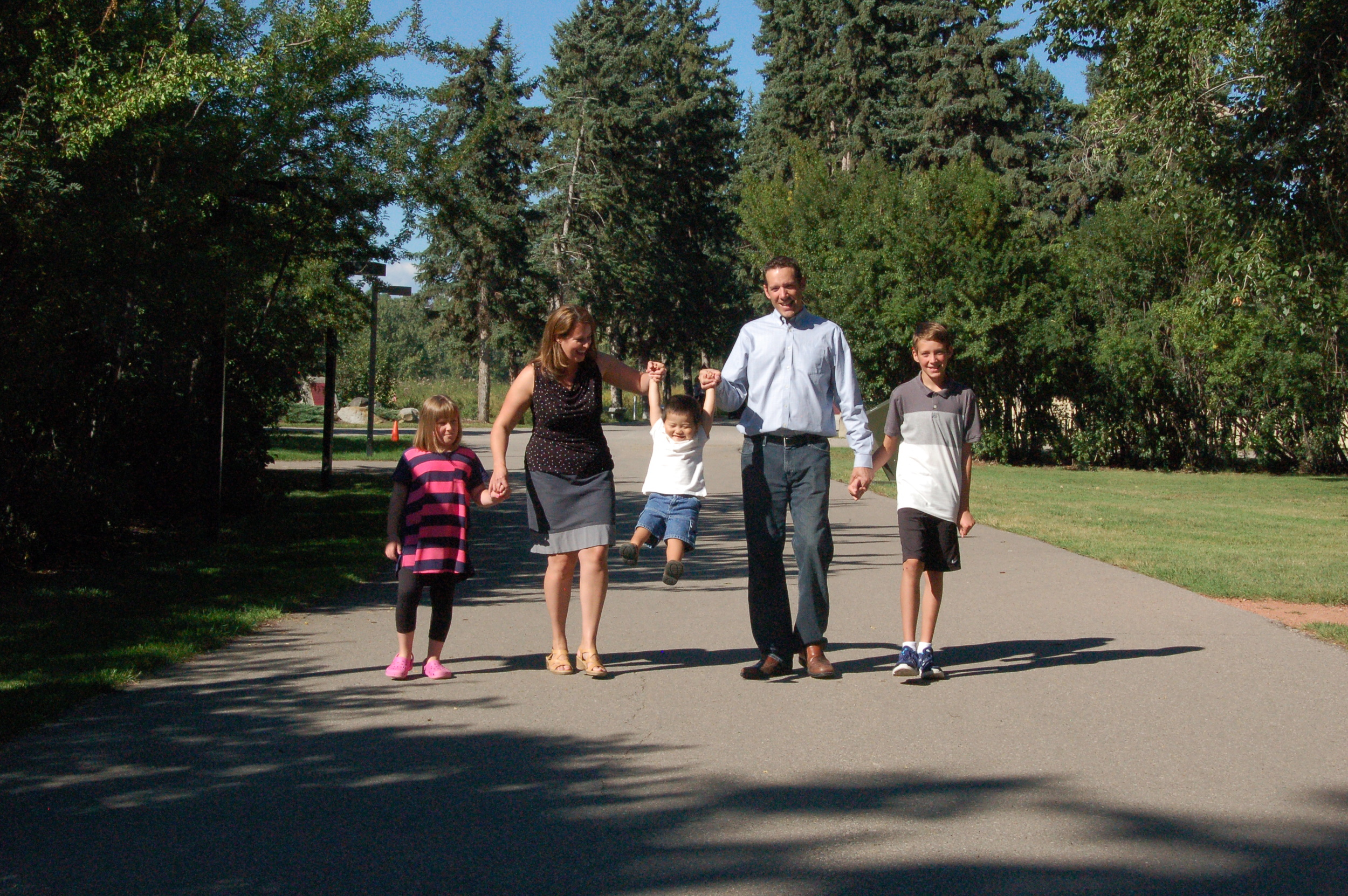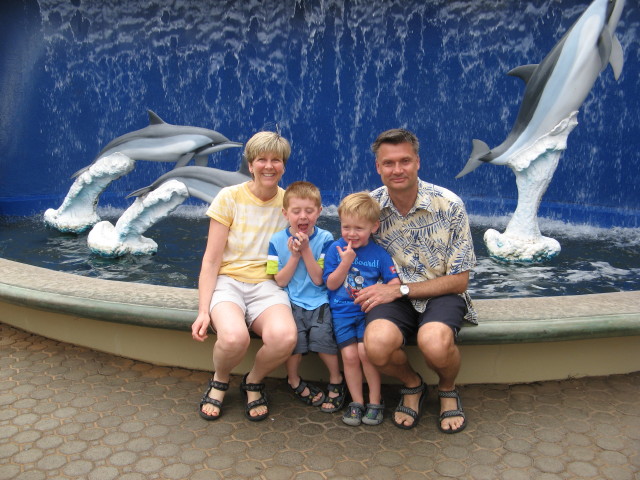 Thoughts from Lesley and Jason
I cannot imagine our family without the amazing super-women of Adoption Options. AO's incredibly compassionate and dedicated staff have supported us through times of great sadness, stress, transition, and joy.
They have been there for us through our whole adoption journey, from our first curious steps towards adoption, to the anxiety of applying and waiting to be placed, to the over-the-moon excitement of finally welcoming a baby (and then another) into our family, to the ins-and-outs of adoptive parenting; all with exceptional warmth, skill, and professionalism.
They work 'above and beyond' to support all members of the adoption circle, creating a sense of community where birth and adoptive families can connect and share the special delights and challenges of building families by adoption.
Lesley, Jason and family
From Ben and Jen
After years of heartache of unsuccessfully trying to have a child, we entered the offices of adoption options with fear. We were entering an unknown world and had so many questions.
After attending the seminar many of our questions were answered and we left with hope and excitement. For us the answer was clear, we were meant to be the parents of an internationally adopted child. We still had a long process ahead of us, but Liz made the experience an enjoyable one. Her knowledge of international adoption was very helpful and many times she put us at ease.
We are now the parents of a beautiful, caring, funny little girl from china who is about to celebrate her 9th birthday! Time has flown by, I remember thinking I was never going to be a mother and now she is half way to 18!
I can't even imagine her not being in our lives and we are so thankful to not only Liz, but the entire adoption options team. We have also made some strong friendships with other couples that have adopted and they have truly enriched our lives.
Entering that office years ago was the best decision we have ever made.
Ben and Jen
Reflections on International Adoption
­­­ Words…
Anxious waiting
Nervous anticipation
Prayer answered
Surreal meeting
Babysitter-like feelings (Who is this kid?)
Joy
Sorrow
Grief
Loss
Special needs
Surprise
Conflict
Unexpected challenges
Depression…what! Me?
Marriage struggles
Exhaustion
Tearful pride
Wavering commitment
Yohannes…
I sat on the floor with my kids fitted into my lap. Laurèn was five and Yohannes was four. We were looking through Laurèn's baby album, and I was telling stories about the day she was born. Both kids were enchanted, and then Yohannes asked, "Mom, what was it like on the day I was born?"
I stammered, "Buddy, I wasn't there the day you were born."
"Huh?" he said.
"Uhhh…remember, you were born in Ethiopia; you joined our family when you were two."
"But how come you are telling Laurèn, and you can't tell me?"
My breath seemed to strangle me, "Wellll…Umm…I can't tell you because I don't know…but I can imagine what it was like on the day you were born."
"Okay." He smiled.
"On the day that you were born, I can imagine the sun was high and hot in the sky… I can imagine that your mother kissed your chubby cheeks thinking that she was the luckiest mother alive… I can imagine the women of the village burned incense to announce your arrival to the heavens and to the earth… I can imagine…"
Faven…
"You are not my actual parents!" she screamed at us.
"Yes, honey—we are your parents." I soothed.
Now sobbing, she choked out, "No—You—Are—Not."
I sat on the bench, putting on my shoes, so we could pop out to the drugstore. My shoulders, heavily burdened, pressed into my ribcage. I sighed. "It is true, we are not the parents you were born with. But we are the parents you have now."
She threw her boots, and ran, screaming, "I hate you, I frickin' hate you!"
I sat, defeated.
My husband walked by, "Don't let the turkeys get you down," he said, brushing my shoulder.
A minute later she was back. She put on her boots and coat, and looked at me, "Let's go," she said as if the previous exchange hadn't even happened.
I stared at her hard; she turned and walked out of the house.
Adoption – Blessings and Burdens
In the spring of 2006, we made our first trip to Ethiopia, and brought two-and-a-half-year-old Yohannes into our family of five. His readiness for a mother was evident the moment that he walked around the corner of the foster home and slid into my lap, slinging his scrawny arm around my shoulder, like an old friend. From that moment, he followed me everywhere; he talked (Amharic gibberish) to me non-stop; he attached himself to various parts of my body, if not immediately to my heart. This was when I realized that attachment was a two-way street. I had assumed that he would have a difficult time attaching to me, but in reality, it was the other way around. I was shocked and ashamed that I did not fall in love with him over "Hot Wheels", the way I had imagined I would. A swift and pervasive depression swept over me, while Yohannes adapted with seeming ease.
He has been our son now for eight years, and he is one of my greatest joys in life. Those early months are a confounding memory. I have learned so much from parenting him. Moreover, I was able to admit early in my parenting journey that I needed a different kind of support than with our other children. My friends and family were not going to be able to understand or relate to what I was going through, and their advice (though well-meaning) was not going to provide me with the tools or skills that I would need to provide a loving, safe and secure environment for my children.
Near the end of our adoption trip in 2006, we found out that Yohannes had an older sister named Faven, who he had been separated from. She was six and a half years old. We went to meet her, and allow Yohannes to say goodbye. And then we tucked the emotional shock of it into our suitcases (just next to our dirty laundry) and headed home to our busy lives in Canada. We were overwhelmed.
Our initial days and weeks were filled, introducing Yohannes to the vastly changed landscape of his living, as well as to his new family. As bumbling parents we were trying to figure out what to do for a child that we knew nothing about. And I was also dealing with that uninvited "house" guest—depression. Nonetheless, Faven was never far from our minds, and we began our second adoption process in the fall of 2006. She joined our family in September of '09 when she was ten years old. She had almost no English language skills, she had little or no formal education, and she had been in an orphanage for a lengthy period. Moreover, she had memories of their birth family, questions she wanted answered, and things she didn't understand; therefore she experienced grief and loss in a way that her brother never has. Needless to say, her adjustment has been different.
Faven had lived in poverty for much longer, and malnutrition may have contributed to some cognitive challenges. School has been extremely difficult, and (at times) it has required a herculean effort to explore educational options and specialized programs to find a "good fit" for our daughter. School is a place where she is reminded daily that she has not had the same start as her peers; it is a place where she feels "less than" in an equation that simply won't ever add up to equal. She also experienced trauma and loss in Ethiopia—and despite providing love, a stable home, and extra support—that will always be a piece of her living. Her piece to bear, not mine. It is very difficult to see someone that you love in emotional pain.
Parenting a child who has been adopted is not the same as parenting a child who is biological. Allow yourself to know this, and be okay with it. To expect an adopted child who has not-yet-attached to behave in the way that an attached biological child behaves is against nature's design (and yet we parents do it!). Not surprisingly, most of the challenges with our adopted children come down to attachment. No amount of love, attention, material goods, quality food, good schools, extracurricular activity, or family support will ease the burden of attachment-directed work. There are no short cuts. Attachment is a lengthy process and it is not a given.
It may seem ironic to hear that the longer Faven has been with us, the more challenging life has become. However, one important reason is that Faven has attached enough to me to let down her guard, and to allow her emotions to flow. However, since she doesn't have a lot of skill with emotional management or trusting relationships, it often looks and sounds like anger and rage. I am not going to lie; it is often difficult to respond to her angry outbursts and accusatory tone with compassion. I have been intentionally engaged with a phenomenal psychologist through all of my adoptive parenting years, and I have had to work hard to develop new skills as well as to battle the gremlins within me that critically judge my ability to be the parent that she needs. Most of our family has found comfort and support through counseling. It has been a critical (and necessary) component of our "Circle of Support".
Marriage and Relationships
My husband and I had been married for nine years prior to adopting. We were also parenting already when we adopted. However, the "drive" to adopt was mine. He supported me, though he was ambivalent. The strength of any marriage will be challenged through parenting. However, a unique aspect of international adoption of children who are older (ie. not newborn babies) is that they may attach to one parent and not the other, or they may have disorganized attachments. This plays heavily on the dynamics of a marriage. Moreover, the mental health and well being of internationally adopted children can be a significant factor, given the circumstances of their early life. We have handled this by going together for counseling with relationship and attachment specialists. It is hard work and requires a high degree of commitment.
Final Thoughts
There are many amazing things about our journey to expand our family. We would not be the people that we are today without it. The amount of growth that I personally have achieved is immeasurable. There has definitely been an influence on all of our children; they have all been to (or back to) Ethiopia at least once. Their place in the world has shifted, and their perspective is broader.
Our Ethiopian-born children are very social, their personalities magnetic. Our kids have always been most comfortable and happiest in a crowd. The "village" really is necessary to raise a child. We have been fortunate to have people in our village who were born in Ethiopia; they have been instrumental in helping us to settle after arrival home with our kids, and it is a connection to all things Ethiopian, which is critical for our kids.
There is no way that anyone can answer the question: Would you do it all again, knowing what you know now? All that we know now is the life that we are living. It has been gut-wrenchingly emotional, and challenging beyond anything that we could have ever imagined, or had ever experienced. There are parts that we would, in a heartbeat, wish away—that is true in almost every family regardless of origin. But, it is those same parts that have made us wiser and stronger, and in an unexpected way, more connected to each other.
Think about the strengths you have to offer a child. Be aware of your own past, because it will be part of your future, and know what your areas of struggle are, as every single one of them will be challenged in parenting. And then, in the end—be gentle with your heart.
"Our greatest glory is not in never falling, but in rising every time we fall." Confucius
Wendy